With over thousands of WordPress themes available at ThemeForest portal, it's quite difficult to find the best WordPress theme for their needs. Often we're asked by users if there is a single WordPress theme that fits all use-cases. The answer is YES. You can use a popular multi-purpose WordPress theme on just about any kind of website. Having the right theme can make a huge difference in your blog / website growth. In this article, we have hand-picked the best WordPress themes of 2020.
Our focus with this article is to highlight the best and most popular WordPress themes in their respective categories. We have niche-specific WordPress themes as well as top WordPress multi-purpose themes in this list.
Having said that, let's take a look at the best WordPress themes on the ThemeForest.
1. Avada | The Ultimate WordPress Theme

(4.7 average based on 23518 ratings.)
Avada is the number one best-selling theme at the largest WordPress theme marketplace, ThemeForest. Since its release in August 2012, Avada has generated more than 500,000 sales — making it one of the most popular premium WordPress themes the world has ever seen.
The Avada demos do an excellent job of selling both the theme and the dream of being able to build a similar website without the need for a developer or coding skills. However, the reality of using a product can often differ greatly from the promises of its promotional material.
What Type of Theme Is Avada?
Before we get started, it's worth noting that there are two schools of thought when it comes to WordPress theme design. The first is that themes should be built for a specific type of website, with a minimal set of customization options and limited additional functionality. The second is that themes should be multipurpose, and include as many features, page templates, customization settings and options as possible to enable you to build any type of website with one package.
The developers of Avada fall into the latter camp, and have used their skills to create a multipurpose theme that's in no way lacking in features, customization options, prebuilt layouts or third-party plugin integrations.
If this isn't the type of theme you'd consider buying, then this review is unlikely to change your mind.
However, if the idea of a flexible theme that can be modified to build any type of website without any coding knowledge appeals to you, then Avada could be just what you're looking for.
So, without further ado, let's get started with a complete review of ThemeFusion's Avada WordPress theme.
The Features That Helped Avada to Become the Best-Selling Theme of All-Time
Avada is packed with a seemingly ever-growing list of features, and is regularly updated to ensure it's a competitive option. The developers have certainly done a great job of expanding on the core functionality of WordPress to cover almost every eventuality, making this a true multipurpose theme.
The full list of features is actually much longer than this, but here are some of the highlights:
Custom drag-and-drop page builder tool.
Large library of elements to insert into your content.
A growing selection of prebuilt websites and individual page templates.
Support for video backgrounds and inserting video into your content.
A range of different header layouts and vertical navigation areas.
Background image blur, fading effects and other animations.
Testimonial, portfolio and skill publishing tools.
Support for popular plugins, including WooCommerce and Gravity Forms.
Nearly all of the features and elements of Avada can be fully customized using the detailed options and settings available — making this an extremely flexible theme.
2. X Theme | ThemeForest Best Selling Theme
(4.7 average based on 6603 ratings.)
The one thing I can say, without giving too much away, is that X has a ton of features. Here's a few of the main ones:
Four 'Theme Stacks' (more on these below)
Multiple free extensions to help take your theme, design, and site further to create something unique
Front-end customizations on all major elements of the theme using the WordPress Customizer
WooCommerce-ready with 4 store layouts that you can use in your designs
Before getting into how the theme handles out-of-the-box, there's a few items in the above list that need a little elaboration to fully understand, such as 'Theme Stacks':
WHAT ARE X THEME STACKS?
The term 'Stacks' isn't something that you hear very often (or ever) in the WordPress community. Since the term is something new, it is easy to scrunch your nose at it and think, "What the heck is that supposed to be?".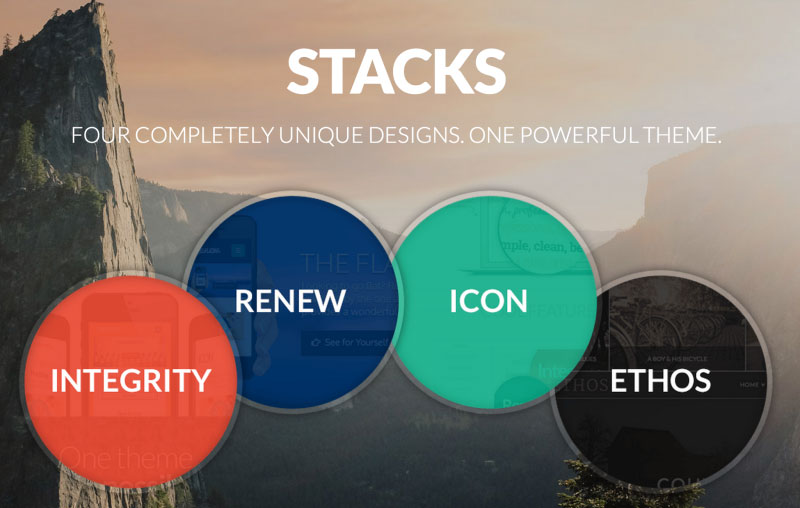 The idea behind Stacks is rather simple: essentially, Stacks are templates built into the theme that people can choose to use as starting points from which to create their own designs (instead of having to start from scratch). To break that idea down even further, you could say that each of these Stacks are individual themes in their own right.
X currently has 4 Stacks that each have a unique layout and design premise to base your website on:
Integrity | This Theme Stack is designed as a multi-purpose theme. It has clean but bold homepage layouts and an overall elegant design to help your site stand out in the right way. It also offers light and dark versions to help create your own unique style .
Renew | The Renew Stack is a template based on the ever-popular principles of flat design that many have come to love. The Stack mixes flat design with clean and uncluttered lines and layouts to make your content stand out — whilst still giving you something genuinely unique and appealing to look at .
Icon | This Stack is probably the most interesting and unique feature that X has to offer. The designs in it are edgier and more modern than the average blog template layout
Ethos | The Ethos Stack was created to be the online magazine Stack of the group. Whether you're looking for a new layout or a unique online magazine layout, Ethos is the Stack that you would likely want to use
Each Stack offers both a range of different features and styles from which to work from.
X THEME EXTENSIONS
X Theme 'extensions' are kind of like WordPress plugins.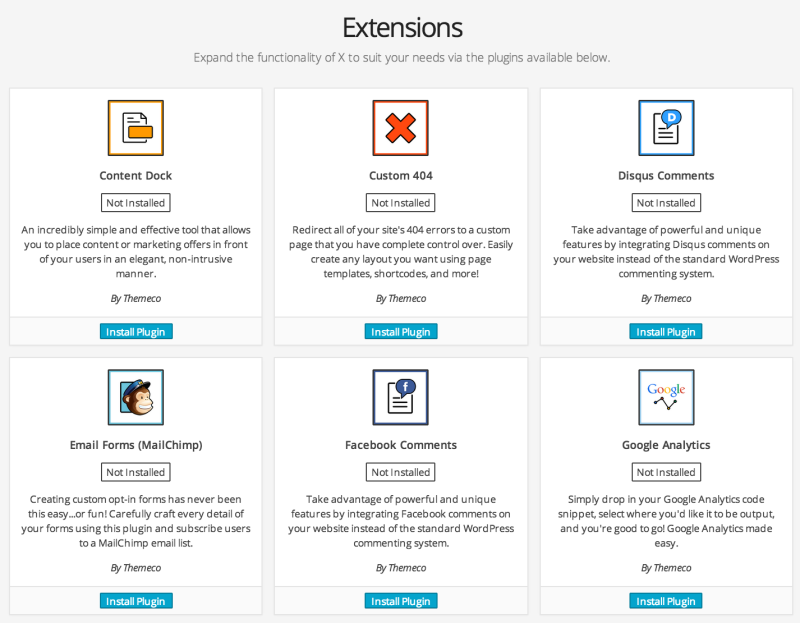 Although the theme includes few extensions that are essentially third-party plugins, most of these are made by Theme.co themselves — specifically to assist users in building sites with X Theme.
Here's a list of extensions/plugins that come with the theme:
Slider Revolution
Visual Composer
Soliloquy (reviewed)
Video Lock
Content Dock
Disqus Comments (as used on this site)
Custom 404
Google Analytics
Facebook Comments
Olark
Smooth Scroll
Terms of Use
Under Construction
White Label
X — Shortcodes (40+ shortcodes to choose from)
There are bound to be a few listed in there that you've never heard of before; however, to elaborate on each would require more reading than you'd probably care for right now…
One of the great things about these extensions/plugins (as well as the Theme Stacks) is they are included for use with the theme and will each continue to receive free updates for the life of your license.
Are these plugins worth using on a site? Well, that depends on what you're intending to build, but the fact that they are included as an option is excellent!
More X Theme Features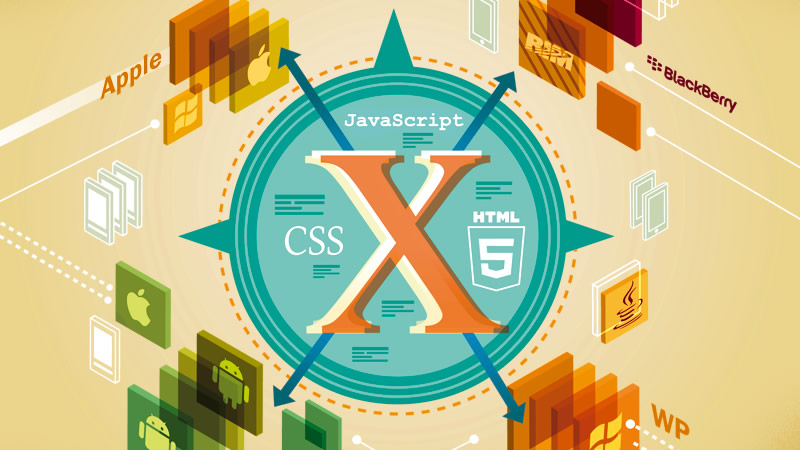 Honestly, X has some really impressive features that go well beyond it being simply bring responsive and looking the part. Here are a few more features the theme has to offer:
WooCommerce, bbPress, and BuddyPress ready
Retina ready
Multiple content and navigation options
Over 600 Google fonts to choose from and use
Developer friendly (i.e. comes with Photoshop PSD files)
Clean code and built on the HTML5 markup so that it's SEO optimized
What's more, as you dig a little deeper, you start to find some real gems, for example: X includes a plugin (listed above) to use their predefined Shortcodes in the theme. Having the Shortcode option as a plugin instead of being built into the theme is a HUGE plus. Why? Because it makes it easier to switch themes down the road without the hassle and mess of cleaning up pages and pages of messy shortcode debris that would have been leftover.
3. Enfold | One of the Top Selling WordPress Theme on ThemeForest
(4.8 average based on 10032 ratings.)
Currently boasting almost 75,000 sales on ThemeForest and a near perfect 5-star rating, Enfold is one of the most popular WordPress themes on the market.
Created by Kriesi (a theme provider that's already amassed over an absolutely whopping 140,000 total sales on ThemeForest), Enfold has a lot to like about it: it's fully responsive, completely compatible with WooCommerce, has a huge array of impressive theme demos — all with particularly easy to install predefined-content — and well: quite a bit more…
Let's take a detailed look at precisely what this top-selling theme has to offer:
Predefined Designs And Layouts
Enfold currently comes with sixteen ready-made demos/layouts that can each be used as a starting base for your own design and installed with just a few clicks.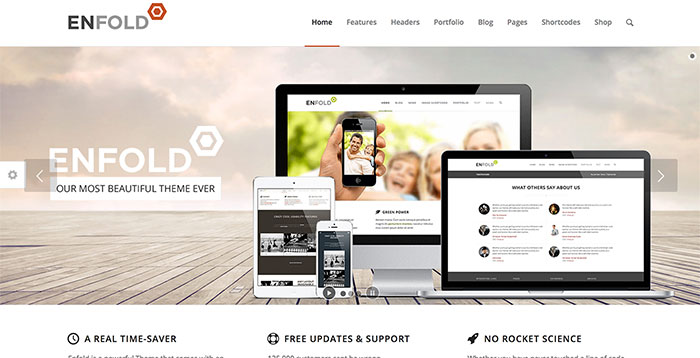 To install a demo, all you need to do is go to the theme's Demo Import section (located within the Theme Options panel) and click the demo you'd like to import. After a couple of minutes, the demo will then be installed and you'll be able to go through and edit the various pages it contains as you please — thereby saving you a ton of time in both a) coming up with your own design, and b) actually getting a brand new site up and running!
A Few Examples…
Here's a few basic examples of the ready-made demos/layouts that come packaged with the theme:
EXAMPLE 1.

Not bad! However, these are of course only starting points, and after installing one you'll soon want to begin customizing things via various settings…
Key Features
Pretty designs, however, aren't all this theme has to offer — because Enfold comes jam-packed with features:
RESPONSIVE
You probably already know about Google's Mobilegeddon. If not, the basic rundown is that Google will effectively penalize your site (to a certain extent) unless it adjusts its layout to look good on mobile devices.
It's therefore imperative that your site be adjusts its layout and text size, etc, depending on the screen size — something enabled by having a responsive WordPress theme.
Luckily, the team behind Enfold have ensured their theme be both responsive, and as an added bonus, also retina-ready (thereby ensuring images etc will look crisp and sharp on both low and high-definition screens).
THE AVIA LAYOUT BUILDER
One of the more intriguing features of Enfold is the page builder named, Avia.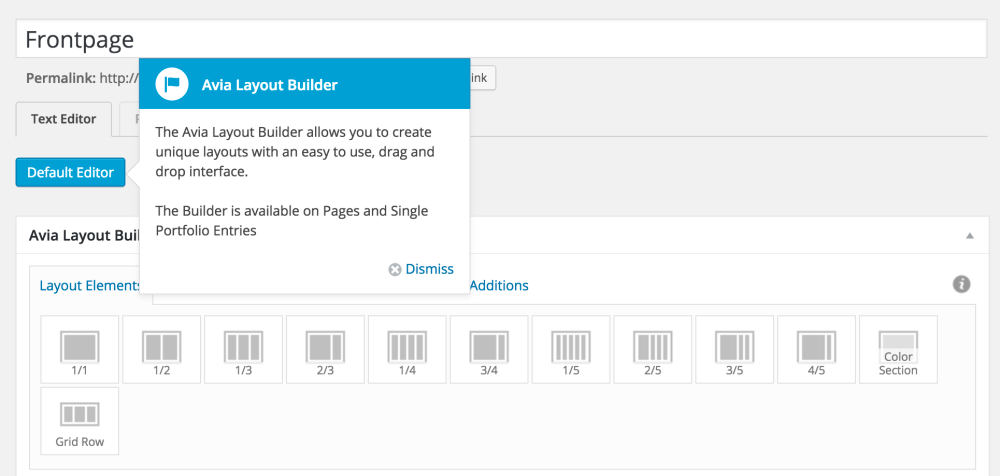 Though perhaps not as user-friendly as some other page builder plugins, the Avia Layout Builder is more than capable of helping you create your own unique design — all be it after a slight learning curve.
As an example: the entire front page of the Enfold One Page Restaurant demo (shown below) is actually built using this very page builder.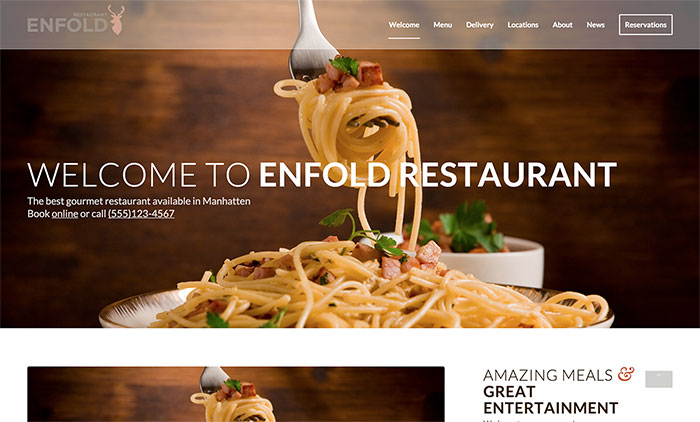 The list of elements that you can use here is also rather astounding. Here's a handful of examples you can choose from:
Columns of varying widths.
Buttons Gallery
Tabs
Toggles
Accordions
Pricing and Data Tables
Call to Action Buttons
Testimonials
Animated Countdowns
Video
Google Maps
The page builder is relatively easy to use, but it does take a little time to really get a feel for it. Your best bet here is probably to start by installing one of the demos in order to help figure out how each of the elements work before attempting to create your own design from scratch.
4. Kalium Theme| One of the Most Creative WordPress Theme on ThemeForest
(4.94 average based on 1923 ratings.)
Kalium falls under the category of one of the highest sold, highly rated, multipurpose themes for creative individuals and agencies. With stacks of layout designs, rich theme options and a multitude of other features, the theme will give your content, the site it deserves.
The theme is an amalgamation of stunning pre-made demos, award-winning designs, and much more. You will get access to over eleven demo sites, an array of unique portfolio styles, over thirty portfolio types, and WooCommerce compatibility to build your own online shop.
You get access to many premium popular plugins such as the Visual Composer, Revolution Slider, and LayerSlider, which altogether will help you build an even more usable and functional website.

Kalium is a flexible and highly-customizable WordPress theme which is ideal for any type of business or creative WordPress website. This WordPress theme includes a couple of great features you can use to personalize your website accordingly: select from different fonts, multiple portfolio types, advanced admin panel, unlimited skins, multi footer styles and many more. Kalium is suitable for agencies, freelancers, photographers, architects, online shops, fashion sites or simple blogs.
Apart from the above mentioned Brilliant and best selling themes, there are thousands of other option also available on ThemeForest. Visit ThemeForest and get your desired theme today.