BigRock is a prominent web services company based in India. It specializes in providing a wide range of online services, including domain registration, web hosting, website design, and more. With a strong presence in the industry, BigRock has earned a reputation for offering reliable and cost-effective solutions for individuals, small businesses, and enterprises alike.
The company's services encompass domain name registration, allowing customers to secure unique web addresses for their websites. Additionally, BigRock provides various hosting options, such as shared hosting, VPS hosting, dedicated servers, and cloud hosting, catering to diverse hosting needs.
With a user-friendly interface and a commitment to customer satisfaction, BigRock has garnered a substantial customer base over the years. Their support team is known for its responsiveness and expertise in helping clients navigate through technical challenges.
Domain Registration: BigRock allows you to register a wide variety of domain extensions, including popular ones like .com, .in, .net, and many more. This is the first step in establishing your online presence.
Web Hosting: They provide a range of hosting solutions to suit different requirements:

Shared Hosting: Ideal for small websites or personal blogs, where resources are shared among multiple users on a server.
VPS Hosting: Offers more control and dedicated resources within a virtual private server environment.
Dedicated Servers: Provides an entire server exclusively for your website, offering maximum performance and control.
Cloud Hosting: Harnesses the power of cloud infrastructure for scalability and high availability.

Website Builder: BigRock offers an intuitive website builder tool that enables users to create professional-looking websites without the need for extensive technical knowledge.
Email Hosting: They provide email hosting services that allow you to have a custom email address associated with your domain name, enhancing professionalism and brand identity.
Digital Certificates: These certificates are used for encrypting sensitive information during online transactions, providing an added layer of security for e-commerce websites.
CodeGuard: This is a backup and restore service that helps protect your website data, ensuring it can be quickly restored in case of any unforeseen incidents.
Website Security: BigRock provides security solutions such as SiteLock, which helps protect your website from malware and other security threats.
G Suite: They offer G Suite, which includes a suite of productivity tools like Gmail, Google Drive, Google Calendar, and more, all customized with your domain name.
Reseller Hosting: BigRock offers reseller hosting packages, allowing individuals or businesses to sell hosting services under their brand.
BigRock  Customer Services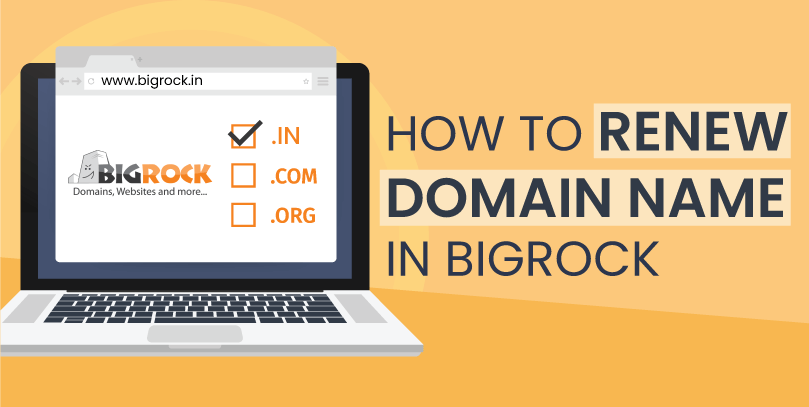 24/7 Support: BigRock offers around-the-clock customer support, ensuring that assistance is available at any time, day or night. This is particularly crucial for addressing urgent issues or technical difficulties.
Multi-Channel Support: They provide support through various channels, including live chat, email, and phone. This enables customers to choose the mode of communication that best suits their preferences and needs.
Knowledge Base: BigRock maintains a comprehensive knowledge base and a library of resources. This includes articles, tutorials, and guides that can help users troubleshoot common issues or navigate through different features of their services.
Ticketing System: For more complex or specialized queries, BigRock employs a ticketing system. This ensures that each inquiry is tracked and resolved by the appropriate team member, ensuring thorough and accurate responses.
Response Time: The company is known for its prompt response times. Customers often report quick resolutions to their issues, which is crucial for minimizing downtime and disruptions.
BigRock  Benefits, Features, And advantages
Benefits:
Features:
Domain Registration: BigRock offers a vast selection of domain extensions, enabling users to choose a unique and memorable web address for their online presence.
Website Builder: Their website builder tool simplifies the process of creating professional-looking websites without the need for advanced coding or design skills.
Email Hosting: BigRock provides email hosting services that allow users to have custom email addresses associated with their domain name, enhancing professionalism and brand identity.
Security Solutions: They offer SSL certificates, SiteLock, and CodeGuard services to enhance the security of websites, protecting against threats like malware and providing secure data transmission.
Backup and Restore: The CodeGuard service ensures that website data is regularly backed up and can be restored quickly in case of any unforeseen incidents.
Advantages:
Scalability: BigRock 's services, particularly cloud hosting, provide scalability, allowing businesses to easily adjust resources as their needs grow.
G Suite Integration: They offer integration with G Suite, providing access to a suite of productivity tools like Gmail, Google Drive, and more, customized with your domain name.
Wide range of domain options and services available.
User-friendly interface for easy website management.
Affordable pricing plans to suit different budgets.
24/7 customer support for quick assistance.
Reliable hosting with good uptime performance.
In conclusion, BigRock stands as a reputable player in the web services industry, particularly in the Indian market. With a diverse range of offerings, including domain registration, web hosting, website design, and security solutions, BigRock caters to a wide spectrum of online needs.
One of its key strengths lies in its cost-effectiveness, providing affordable options for individuals and businesses alike. The user-friendly interface and comprehensive service portfolio make it accessible to users with varying levels of technical expertise. Moreover, their Indian presence, with domain extensions like .in and .co.in, offers an advantage for local businesses.