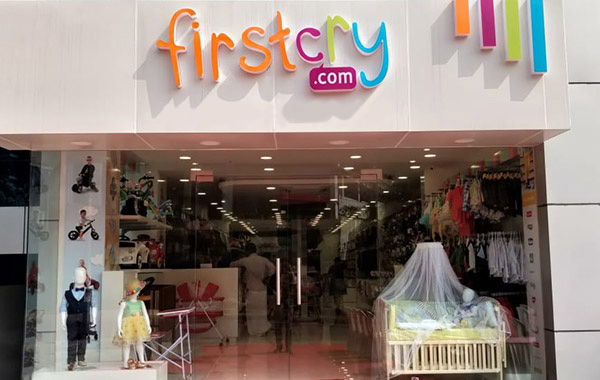 FirstCry is an online retail platform dedicated to all things related to parenting and childcare. It offers a wide array of products ranging from baby essentials like diapers, clothing, and feeding accessories to toys, books, and nursery furniture. The platform caters to the needs of both expectant parents and those with young children.
With a user-friendly interface, FirstCry provides a seamless shopping experience for customers seeking quality and reliable products for their little ones. It's a one-stop destination for parents looking to conveniently shop for all their child's requirements.
Baby Essentials: This category encompasses crucial items such as diapers, wipes, baby skincare products, and hygiene essentials.
Clothing: FirstCry provides a wide array of apparel for infants and children, including onesies, rompers, dresses, outerwear, and footwear.
Feeding and Nursing: This section includes feeding bottles, breast pumps, nursing covers, baby food, and other feeding accessories.
Toys and Games: FirstCry offers an extensive range of age-appropriate toys, games, and educational materials to foster a child's development.
Books and CDs: Educational books, storybooks, CDs, and DVDs designed to stimulate learning and creativity in children are available.
Nursery and Bedroom: This category features furniture and decor for nurseries and children's bedrooms, including cribs, bedding, storage solutions, and decorative items.
Diapering and Potty Training: Products like changing mats, potty seats, and training pants are available to assist in diapering and toilet training.
Health and Safety: Items in this category include healthcare products like thermometers, baby monitors, and safety equipment like baby gates and cabinet locks.
Maternity Wear and Care: FirstCry also caters to expectant mothers with a range of maternity clothing, skincare products, and other essentials.
School Supplies: This section provides school bags, stationery, lunch boxes, water bottles, and other items necessary for a child's school routine.
Party Supplies: FirstCry offers a variety of party supplies for birthdays and special occasions, including decorations, tableware, and costumes.
FirstCry Customer Services
Responsive Support Team: FirstCry boasts a dedicated customer support team that is readily available to address any queries, concerns, or issues that customers may have. They can be reached through various channels including phone, email, and live chat.
Secure Payment Options: The platform offers a variety of secure payment methods, ensuring that customers can complete their transactions with confidence and peace of mind.
Product Quality Assurance: FirstCry is committed to offering high-quality, genuine products from reputable brands. They take measures to ensure that customers receive items that meet their expectations.
Educational Resources: In addition to products, FirstCry provides informative articles, blogs, and guides on various parenting topics. This valuable resource helps parents make informed decisions about childcare.
Sales and Promotions: FirstCry often runs special promotions, discounts, and sales events, providing customers with opportunities to save on their purchases.
User-Friendly Website and App: The platform is designed to be intuitive and easy to navigate, allowing customers to find and purchase products quickly and efficiently.
FirstCry Benefits, Features And Advantages
Benefits:
Comprehensive Range of Products: FirstCry offers an extensive selection of products for parents and children, covering everything from essentials like diapers to toys, clothing, and nursery furniture.
Convenience: Parents can shop for all their childcare needs from the comfort of their homes, saving time and effort.
Trusted Brands: FirstCry partners with reputable and trusted brands, ensuring that customers receive high-quality, genuine products.
Specialized for Parenting: The platform is tailored to the unique needs of parents, offering specialized products and resources for various stages of parenting.
Educational Resources: FirstCry provides valuable articles, blogs, and guides on parenting topics, offering helpful advice and tips.
Features:
User-Friendly Interface: The platform is designed with an intuitive layout, making it easy for users to navigate and find products.
Order Tracking: Customers can track the status of their orders, from processing to dispatch and delivery.
Secure Payment Options: FirstCry offers various secure payment methods, ensuring safe transactions.
Sales and Promotions: FirstCry frequently offers special promotions, discounts, and sales events, providing opportunities for savings.
Advantages:
Time-saving: Shopping online at FirstCry eliminates the need for physical store visits, saving parents valuable time.
Quality Assurance: FirstCry prioritizes genuine, high-quality products, giving parents peace of mind about their purchases.
Parenting Community: The platform fosters a sense of community, allowing parents to connect, share experiences, and seek advice.
Educational Content: Parents have access to a wealth of educational resources to help them navigate the challenges of parenting.
Specialized Categories: FirstCry caters to specific parenting needs, offering categories like maternity wear and care, party supplies, and more.
Wide range of products: Firstcry.com offers a vast selection of baby and kids' products, ensuring customers have access to all their needs in one place.
Convenient shopping experience: The website provides a user-friendly interface and easy navigation, making it hassle-free for users to browse and purchase products.
Competitive prices: Firstcry.com often offers competitive pricing on its products, allowing customers to find the best deals and save money.
Fast delivery: The website ensures prompt delivery of orders, ensuring that the products reach customers promptly.
In conclusion, FirstCry emerges as a commendable online platform dedicated to simplifying the journey of parenting. With an extensive range of quality products, from essential baby items to toys, clothing, and nursery furnishings, it caters comprehensively to the needs of parents and their little ones.
The platform's user-friendly interface and transparent services ensure a convenient and hassle-free shopping experience.
FirstCry goes beyond just being an e-commerce site; it fosters a sense of community by providing valuable parenting resources and facilitating interactions through forums and discussions. This supportive environment empowers parents to share experiences and seek advice.