Udacity is an online learning platform that offers a wide range of courses and programs in various fields of technology and business. Founded in 2012, Udacity's mission is to provide accessible and industry-relevant education to learners around the world.
Udacity courses cover topics such as programming, data science, artificial intelligence, machine learning, digital marketing, and more. They collaborate with leading companies in the tech industry to create content that is up-to-date and aligned with industry standards.
One of Udacity 's distinctive features is its focus on project-based learning. Many of their courses include hands-on projects that allow learners to apply their knowledge in real-world scenarios.
Individual Courses: Udacity provides a wide selection of individual courses covering various topics in technology and business. These courses are typically focused on specific skills or technologies and can be taken at your own pace.
Nanodegree Programs: Nanodegree programs are more comprehensive learning paths that consist of a series of courses focused on a particular subject. They often include hands-on projects, mentorship, and career support. Completing a Nanodegree program can provide learners with a more in-depth understanding of a specific field.
Enterprise Solutions: Udacity partners with companies to provide tailored learning solutions for their employees. This can include custom content, specialized programs, and access to Udacity 's platform for corporate training purposes.
Udacity for Government: This is a program designed to offer governments and public sector organizations access to Udacity 's educational content and platform for workforce development initiatives.
Career Services: Udacity provides career services to help learners prepare for and find jobs in their chosen field. This may include resume and LinkedIn profile reviews, interview preparation, and job matching.
Udacity Connect: This is a feature that provides learners with the opportunity to participate in live, instructor-led sessions for certain courses. It's a way to receive additional support and guidance during the learning process.
Udacity Blitz: This is a freelancing platform associated with Udacity that connects graduates of certain programs with potential clients for project-based work.
Credential Verification: Udacity offers the option to receive a verified certificate upon completion of a course or program, which can be useful for showcasing your skills to potential employers.
Udacity Customer Services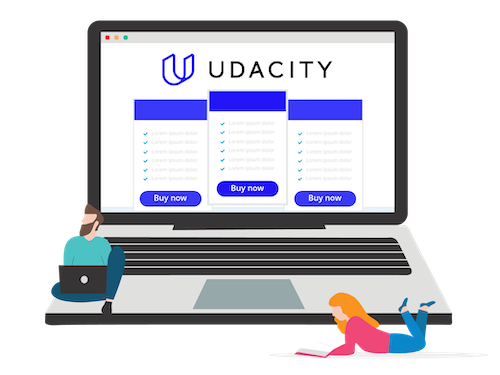 Udacity Benefits, Features And Advantages
Benefits:
Industry-Relevant Curriculum: Udacity collaborates with leading companies to create courses that are aligned with industry standards and provide practical skills needed in the workforce.
Flexible Learning: Learners can access course materials and complete assignments at their own pace, allowing for a personalized learning experience.
Project-Based Learning: Many Udacity courses include hands-on projects, providing learners with the opportunity to apply their knowledge in real-world scenarios.
Career Services: Udacity provides resources to help learners prepare for and find jobs in their chosen field, including resume and interview assistance.
Features:
Hands-on Labs and Projects: Courses often include practical exercises and projects to reinforce learning and build practical skills.
Instructor Support: In some courses, learners have access to instructors or mentors who can provide guidance and assistance.
Credential Verification: Upon completion, learners can receive a verified certificate to showcase their skills to potential employers.
Community Forums: Udacity 's community forums provide a platform for learners to interact, ask questions, and share insights with fellow students.
Advantages:
Accessible Education: Udacity offers a platform for accessible, online learning, making education available to a global audience.
Relevance to Industry Trends: Courses are designed in collaboration with industry partners, ensuring that learners are exposed to the latest technologies and practices.
Up-to-date Content: Udacity regularly updates course content to reflect changes in technology and industry standards.
Customized Learning Paths: Learners can choose courses and programs based on their interests and career goals, allowing for a tailored educational experience.
Udacity offers a wide range of online courses in various fields, allowing individuals to access high-quality education from the comfort of their own homes.
The platform provides flexibility in terms of learning pace, allowing users to study at their convenience and set their schedules.
Udacity's courses are created in collaboration with industry experts and leading companies, ensuring that the content remains relevant and up-to-date with current trends and practices.
The platform offers interactive and hands-on learning experiences through projects and real-world simulations, helping learners gain practical skills alongside theoretical knowledge.
Udacity provides career-focused courses that include job placement assistance, making it a valuable resource for those looking to advance or transition into new careers.
In conclusion, Udacity is a prominent online learning platform that offers a diverse range of courses and programs in technology and business-related fields. With a focus on industry relevance, hands-on learning, and flexible pacing, Udacity provides learners with valuable skills that are directly applicable in the workforce.
The platform's project-based approach, in collaboration with leading industry partners, sets it apart by allowing learners to gain practical experience and tackle real-world challenges. Nanodegree programs offer in-depth knowledge and mentorship, further enhancing the learning journey.
Udacity's commitment to accessible education, along with its career services and community forums, fosters a supportive learning environment. The platform also adapts to industry trends, ensuring that learners are exposed to the latest technologies and practices.